Each of us has his or her own clothing style, and those specific clothing items which stand out in terms of being mood lifters. I believe there is a certain correlation between personal style of fashion and preference of music. Another interesting correlation is in those special clothing pieces which bring joy, thanks to the amazing fit, the uplifting color, or the amount of compliments received while wearing these pieces. And parallel to that in the music world, each person has his or her favorite feel-good songs! Music is magical in the way it can affect our mood!In fact, it...
---
While we do not have full control over what we manifest for our future – In this blog, I would like to bring your attention to things you can do to manifest what you want, and other things which are better to avoid. Before you continue reading - look around the room you are in, examine the decorative items carefully for a few moments, and genuinely notice your feelings.  Was there a spark of excitement and optimism? Was there a sensation of gratitude? Did you feel at all inspired? Or was the feeling completely blank? Was it uncomfortable? Or was...
---
To be honest, I used to feel intimidated by books, especially the big ones… I also remember not fully understanding the purpose of reading. It was in my early teens when I had to face the challenge of reading a complete book as part of a high school summer assignment. There was a scary list on the left side of the green board, which listed 7 books - I remember staring at the chalk list, terrified and unsure how to approach it. I was in luck! Because somehow, I was fortunate to choose the book which would change my view...
---
Fantasizing is a very important part of creative fashion design - but how to make sure not to go too far, and to create Thoughtful Style?
In a focus group I conducted in Midtown Manhattan back in 2016, shortly after the pop-up store, we gathered for a lovely Sunday brunch. Including me, we were 10 ladies, in our 30's to 70's, who all appreciate quality & style.
We had a vibrant 3-hour discussion about habits, preferences, fabrics, wardrobe needs and
---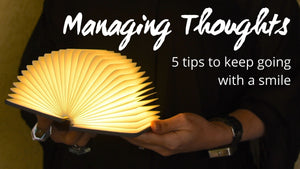 We often talk about Time-Management, but what about Thought-Management? The art of bringing proper attention to the way we manage our thoughts, particularly in preparation for current, and coming uncertainties. There is a great saying, "Life is 10% what happens to you, and 90% how you react to it." While reactions are usually perceived as physical actions, a reaction is also how one thinks, a.k.a. the 'Internal Conversations' which are essential for our well-being. Did you know our thoughts also affect the way our senses work? Food can taste much better when our minds are clear; everything is connected. Wouldn't it be...